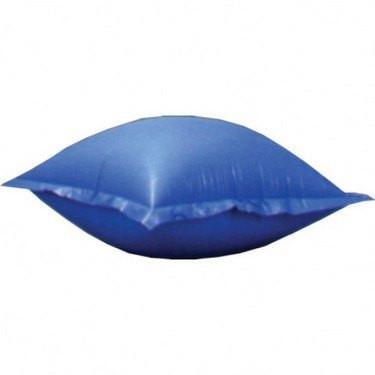 Air Pillow for use in Winterizing Above Ground Pools
1.2m x 1.52 when inflated
Reduces stress on Winter Cover
More than one Air Pillow is advisable on larger or oval pools
In Stock For Immediate Delivery
DELIVERY: In-stock items are sent out on a next working day service
RETURNS: All products can be returned in original packaging, suitable for resale, within 14 days from date of delivery.
PRODUCT INFO:
The Air Pillow is a heavy duty inflatable which supports the debris cover from sagging due to rain, snow and other debris collect in the centre. Adding an air pillow to your swimming pool debris cover can increase the life expectancy of your debris cover. The air pillow was designed to fit under the winter cover to eradicate water build up on the covers surface.
At World of Pools we would recommend purchasing an air pillow on any tarpaulin debris cover as these swimming pool covers are not porous and can collect a heavy load on the surface throughout the winter. Not only does this keep to cover intact it also helps prevents the pool water from freezing with its buoyancy in the centre of the pool.
Guidelines
Make sure pool water level below the skimmer mouth, inflate air pillow and position the pillow in the centre of your pool.
Place the above ground debris cover over the air pillow to form a pyramid like shape, letting the cover fall into the pool around the circumference of the air pillow and overlap the cover over the top rail.
Note: Blowing and flapping can cause a great deal of strain and damage to the pool cover. If you can not make the cover overlap the top rail until it reaches the outside of the wall we would suggest covering up any opening between the cover and wall.
The Air Pillow is 1.2 x 1.52 when inflated. Please only inflate air pillow approx. 50%