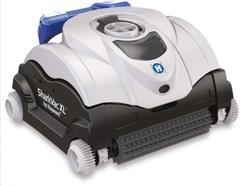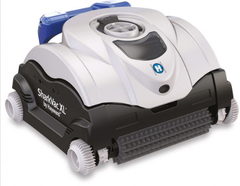 SharkVac XL Robotic Pool Cleaner for Floor, Walls and Pool Surface
Suitable for pools upto 6m x 12m with 18m Cable
Easy to clean filter
Caddy included
Out-of-water and beach entry sensors
DELIVERY: Sharkvac XL Pilot Pool Cleaners are sent out on a next working day service but all standard deliveries will be within 5 working days.
RETURNS:  Sharkvac XL Pilot Robotic Cleaners can be returned to us, in compliance with the Consumer Contracts Regulations, unused and in their original packaging, suitable for resale, within 14 days from date of delivery. Returns should always be sent via "Signed For" carrier or postal service.
.

When a return is received back into our warehouse our returns department confirm that everything is present and that the item is in its original condition, to make sure it is eligible for a refund. We will process the refund normally on the same day we take them in, but please allow up to a maximum of 14 working days for the money to reach your bank or credit card. It is unlikely to take this long but due to reasons such as bank delays or errors, this may occasionally occur.
PRODUCT INFO:
SharkVAC XL Pilot robotic pool cleaners will clean the pool floor, walls and surface. This is a powerful robotic pool cleaner suitable for pools unto 6m x 12m and comes with a long 18m cable for those deeper pools. The SharkVac XL is a high capacity robotic swimming pool cleaner that you are looking for a robotic pool cleaner that will clean you pool to a high level, cover the entire area, slopes, walls, unusual shape pools this cleaner is ideal.
The SharkVAC XL Pilot has powerful cleaning tools and intelligence to cover the entire pool, the cleaner has a large capacity filter and extra-wide cleaning path.
The SharkVAC XL Pilot robotic pool cleaner will clean the pool floor, walls and pool surround ensuring the whole pool is covered using its computer efficiency automatically calculating the size of the pool and programming itself for the most time and energy-efficient cleaning path.
Highlights:

Two 5 micron fine porosity filtration elements
Top-access, easy to clean filter
Suits all pool surfaces and shapes
Sturdy transport & storage caddy included
Out-of-water and beach entry sensors