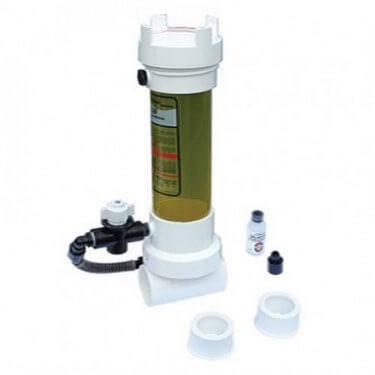 Rainbow In-Line 320C Chlorine Feeder
Permanent feeder slowly adding chlorine to your pool
Holds 11 200g tablets or 98 20g tablets
Reduces amount of chemical handling
Ideal for pools between 20 and 180 cubic meters
A plastic non-return valve must be installed immediately before any chlorine dispensing units
DELIVERY: We aim to send all products out on a next working day service but all standard deliveries will be within 5 working days
RETURNS: This product can be returned in original packaging, suitable for resale, within 14 days from date of delivery.
PRODUCT INFO:
Rainbow In-Line 320C Chlorine Feeder
Rainbow In-line chlorine and bromine feeders are ideal for swimming pool owners that don't want to dose there pool each week, just fill the dispenser with tablets and let it do the work for you. The Rainbow 320 will treat pools between 20m3 and 180m3. Easy to install inline design.
Rainbow in-line chemical feeder is an easier way to manage putting either chlorine or bromine into your swimming pool. Using a feeder will reduce the amount of manual dosing which is ideal if want to ensure chloring is passing through all the time.
Reduces manual handling of chemicals
New or reto fit
External control valve to adjust the feed rate
No special venting required
Holds approx 11 x 200g tablets or 98 x 20g tablets
In-line feeder can treat pools between 20m3 and 180m3