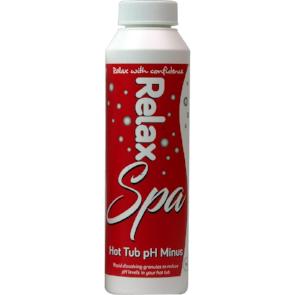 Relax pH Minus 750g for Hot Tubs
by Relax
Relax Spa pH Minus 750g
Rapid Dissolving Granules
Used to Reduces pH level in Water
Fast Next Working Day Delivery
DELIVERY: We aim to send all products out on a next working day service but all standard deliveries will be within 5 working days
RETURNS: This product can be returned in original packaging, suitable for resale, within 14 days from date of delivery.
PRODUCT INFO: 
Relax Spa Hot Tub pH Minus comes in a slim 750g container. pH minus should be used when the pH levels are too high

Relax Spa pH Minus will reduce high levels of pH and should be used if your spa water is above 7.6. Correct pH levels will avoid problems with cloudy water and scaling of surfaces and pipework which can happen if the pH levels are too high.
A High pH also makes chlorine less effective

Dosage is 11g per 1000 liters but you should always read the container for full instructions