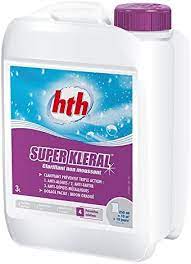 HTH Super Kleral 3 Litres
by HTH
HTH Super Kleral Multi-Functional Algaecide

3 Litres Treats 100,000 Litre / 22,000 Gallon Pool
Prevents Algae Growth & Kills Existing Algae
Anti Stain & Anti Scale Formula Copper Free
Previously Known As Fi-Clor Multi-Functional Algicide
DELIVERY: HTH Super Kleral Algicide is sent out on a next working day service but all standard deliveries will be within 5 working days
RETURNS: HTH Kleral Algicide can be returned unused, in original packaging, suitable for resale, within 14 days from date of delivery.
PRODUCT INFO:
HTH Super Kleral Algaecide 3-in-1 Multi-Functional Algicide can be used as a "One-Dose" Summer Algaecide or a "One Dose" Winter Algicide. HTH Super Kleral is a Non-Copper Algicide used to both prevent or Kill Algae. 
HTH Super Kleral Algicides are based in Polymerised Quaternary Ammonium Compounds (Polyquat), are non-foaming so can be used in swim spas, too, as well as having 15% active concentration level, which is 50% more than other algicides. HTH Super Kleral Algicide will not affect the pH level of pool water, but will work effectively across a huge pH range.
If you have Algae in your pool, first shock the pool with HTH Shock Powder to raise the chlorine level to between 5 & 10ppm. After 24 hours you can then add HTH Super Kleral Multi-Functional Algicide, following the manufacturer's instructions on the tub.