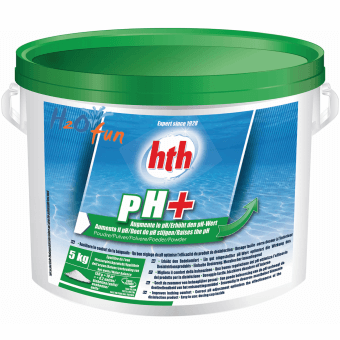 HTH pH Plus Powder 5kg - pH Increaser
by HTH
HTH pH Plus Powder pH Increaser For Swimming Pools
Rebranded From Fi Clor pH Increaser 
Fast Dissolving Soda Ash
For Use In Pools Or Hot Tub Spas
Powder Formula So No Residue
DELIVERY: HTH pH Plus Powder 5kg is sent out on a next working day service but all standard deliveries will be within 5 working days
RETURNS: HTH pH Plus Powder 5kg can be returned unused & in original packaging, suitable for resale, within 14 days from date of delivery.
PRODUCT INFO:
HTH pH Plus Powder 5kg is used for raising the pH levels in your swimming pool or hot tub spa. Maintaining the correct pH levels in the water is important as low pH levels can cause eye and skin irritation and cause corrosion and damage pumps, heaters and even the pool finish.
pH levels show whether the water is Acidic or Alkali. Low is Acidic and High is Alkali
Instructions To Correct Low pH Levels in Swimming Pools using HTH pH Plus Powder 5kg
Test your pool water using your preferred testing method. If lower than 7.2 you will need to raise it
Dissolve the amount suggested on the label of HTH pH Plus Powder 5kg in a 10 litre bucket. Do not dissolve more than 500g at any one time. If more than 500g is required repeat the process.
With the pumps running pour the mixture evenly around the pool, but not into the skimmers.
Leave the filtration running and re-check the pH levels after 24 hours. If required redose with HTH pH Plus Powder 5kg