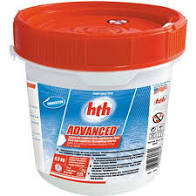 HTH 300g stabiliers-free chlorine capsules
HTH is the new brand name for Fi-Clor
Eliminates green or cloudy water

Each capsule lasts up to 5 days

No chlorine lock

Contains 65% available chlorine
DELIVERY: HTH Supercapsules Delivery will normally take between 1-3 days, but please allow 5 working days in some extreme cases.
RETURNS: HTH Supercapsules can be returned to us, in compliance with the Consumer Contracts Regulations, unused and in their original packaging, suitable for resale, within 14 days from date of delivery. Returns should always be sent via "Signed For" carrier or postal service.

.

When a return is received back into our warehouse our returns department confirm that everything is present and that the item is in its original condition, to make sure it is eligible for a refund. We will process the refund normally on the same day we take them in, but please allow up to a maximum of 14 working days for the money to reach your bank or credit card. It is unlikely to take this long but due to reasons such as bank delays or errors, this may occasionally occur.
PRODUCT INFO: HTH Supercapsules come in a 4.5kg container. HTH Supersapsules can be used as pool sanitiser. Supcapsules are recommended for pools that are open all year round. The HTH Supercapsule tablets are enclosed in a plastic sleeve making them easy to handle. Chlorine is slowly released as the capsule dissolves, from either end of the sleeve. The surface area of the capsule exposed to water remains constant so, unlike standard 200g tablets, your pool water has an even amount of chlorine going into the pool from start to finish with no chlorine lock
HTH SUPERCAPSULES SHOULD BE PLACED IN THE SKIMMER BASKET ONLY. NEVER USE THE CAPSULES IN FEEDERS OR AUTOMATIC CHLORINATORS.
Do not remove the sleeve. Once all the chemical has dissolved, the plastic sleeve will float and the sleeve can then be removed from the skimmer and discarded.