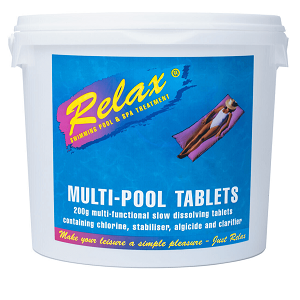 Relax 5kg Large Multi pool Chlorine Tablets 200g

Multifunctional Stabilised Chlorine Tablets are ideal for outdoor pools

Chlorine, Algaecide & Clarifier In One Tablet

Easy to use with immediate effect on bacteria

Simple to measure dosing

In Stock For Immediate Delivery

BPR Approved Manufacturer - Guarantees Highest Quality
DELIVERY: We aim to send all products out on a next working day service but all standard deliveries will be within 5 working days.
RETURNS: All products can be returned in original packaging, suitable for resale, within 14 days from date of delivery.
PRODUCT INFO:
Relax 5kg Multifunctional Large Chlorine Tablets are the most simple and effective choice for your swimming pool. Being virtually pH neutral it is possible to dose your swimming pool with Chlorine throughout the summer without affecting the swimming pool water pH by any noticeable degree, whilst adding residual levels of algaecide and clarifier. If you have an indoor pool, we would suggest using Un-stabilised Chlorine, commonly called Shock.
The ideal chlorine reading in your pool water is between 1 and 3 ppm, this figure can easily tested using Aquachek Test Strips. Testing your pool water daily will allow you to keep control of the swimming pool chlorine level very easily. If the reading is too low, you will simply need to add more Chlorine Granules to the pool water. Full instructions, measurements and quantities are provided on each tub.
Little and often is the most effective method of dosing your swimming pool with Chlorine, as it is a lot easier to correct under dosing than it is over dosing.
The impact of pH on efficiency of Chlorine in your Swimming Pool
Your Swimming Pool pH value has a direct impact on the ability of the Chlorine to sanitise swimming pool water efficiently. A high pH level generally means Chlorine Granules are less efficient.
Water pH of 6.5 - Chlorine in your pool is around 90% efficient
Water pH of 7.0 - Chlorine in your pool is around 75% efficient.
Water pH of 7.5 - Chlorine in your pool is around 47% efficient
Water pH of 8.0 - Chlorine in your pool is around 22% efficient.