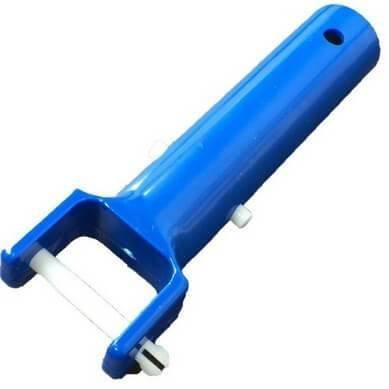 Swimming Pool Vacuum Yoke Head Assembly For Telescopic Pole
Connects To 95% Of Swimming Pool Vacuum Heads
Fits Into Standard UK Telescopic Pole
Cheaper Than Buying New Vac Head
DELIVERY: We aim to send all products out on a next working day service but all standard deliveries will be within 5 working days.
RETURNS: All products can be returned in original packaging, suitable for resale, within 14 days from date of delivery.
PRODUCT INFO:
Replacement handle for a vacuum head. When cleaning you Swimming Pool you connect your Vaccum Head to your Complock Pole to be able to clean you pool floor. 
Cleaning your Swimming Pool is important and when you use a Vaccum Head you will need a 'Yoke Assembley' to attach your pole to you vaccum. Many vaccums have a 'Yoke Assembley' included in the purchase of a new vaccum but these are a key essential that made need replacing instead of purchasing a brand new Vaccum Head.