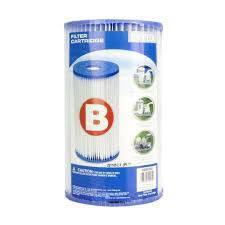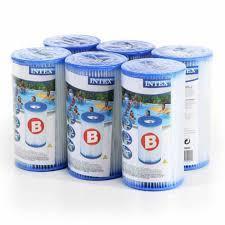 Intex Size B Filter Cartridge
by Intex
Intex size B filter 29005
Fits larger intex pools
Suitable for 2,500 gallon and 4,000 gallon intex pumps
Single filters or box of 6
DELIVERY: Intex Size B Filters 29005 are sent out via a specialist carrier. Delivery will normally take between 1-3 days, but please allow 5 working days in some extreme cases.
RETURNS: 29005 Index B Filters can be returned to us, in compliance with the Consumer Contracts Regulations, unused and in their original packaging, suitable for resale, within 14 days from date of delivery. Returns should always be sent via "Signed For" carrier or postal service.

.

When a return is received back into our warehouse our returns department confirm that everything is present and that the item is in its original condition, to make sure it is eligible for a refund. We will process the refund normally on the same day we take them in, but please allow up to a maximum of 14 working days for the money to reach your bank or credit card. It is unlikely to take this long but due to reasons such as bank delays or errors, this may occasionally occur..
PRODUCT INFO:
Intex Size B Filters for Metal Frame Pools & Easy Set Pools should be changed very regularly, in fact Intex suggest every 2 weeks during the Summer. A clean swimming pool filter helps keep your water crystal clear and will mean using fewer chemicals.
Even if an Intex Size B filter is washed out and looks clean the microscopic holes are blocked, making the Intex filter totally useless. A blocked Intex Pool cartridge filter will increase the pressure inside the pump and quickly wear out the motor shortening the lifespan of the pump dramatically.
Replacing the Intex Size B Pool Filter Cartridges as often as required could be very expensive if you had to buy them at retail prices. At World Of Poolswe can offer Intex Branded Filters at below trade prices and you do not have to buy in bulk.
Size B Filters should be used with the following Intex Pumps:
56634 / 5662
Outer Diameter 145mm
Inner Diameter 50mm
Length 250mm